Albert W. Chow, M.D.
1 Daniel Burnham Court #368c
San Francisco, CA 94109
Phone: (415) 441-1888
Monday–Friday: 9 a.m.–5:30 p.m.

Asian Rhinoplasty in San Francisco
For plastic surgery patients of Asian heritage, the nose is commonly an area of concern. Asian patients are predisposed to a number of unique nasal features including a nose that sits deeper in the face, a wider, flatter nasal bridge, and wider nostrils. Board certified in facial plastic surgery and otolaryngology (head-neck surgery), Dr. Albert Chow is a rhinoplasty specialist who performs Asian rhinoplasty, or a nose job, at his San Francisco plastic surgery practice to resolve these common concerns. He strives to give Asian patients the attractive noses they desire that flatter their surrounding facial features.
Dr. Chow and his staff are sensitive to the specialized needs of Asian women and men. To find out if Asian rhinoplasty in San Francisco can help you achieve the nose shape you want, request a consultation using his online form or call (415) 441-1888 to schedule an appointment.
Why Choose Asian Rhinoplasty?
The goal of Asian rhinoplasty is not to give the patient a characteristically Caucasian nose, but rather a characteristically Asian nose that fits the face well for a more attractive appearance. As with Asian eyelid surgery, Asian rhinoplasty is specifically designed to target certain traits that are most common among individuals of Asian descent. Dr. Chow has significant experience performing this procedure without compromising desirable traits or undermining the patient's ethnic identity.
Often, patients believe that their other facial features, such as the ears, chin, mouth, and eyes, are the problem, when in reality changes to the nose are needed to bring the rest of the face into balance. Using an array of specialized Asian rhinoplasty techniques, Dr. Chow restructures the nose to complement the size and shape of the whole face and its individual features for better balance and a more attractive appearance.
Improvements
Due to the unique framework of the Asian nose, Asian rhinoplasty is generally more challenging than traditional rhinoplasty and requires a skilled plastic surgeon to provide the best, most aesthetically pleasing results. This procedure can achieve one or a combination of the following goals:
Refine the nasal tip for patients with a flatter or bulkier nose. A nose job can sharpen the tip, decrease broadness, and elevate the angle of the nose. The result is a more pronounced nose that blends well with other ethnic features.
Define the bridge by augmenting it with a tissue graft or an implant, narrowing the width, so Asian patients can enjoy a stronger, more defined bridge.
Correct nasal flaws including a hump, crooked bridge, a deviated septum, and other imperfections.
Enhance feminine features by making the nose smaller and less prominent, so women can enjoy a more feminine look that has a softer aesthetic quality.
Create facial symmetry with the nose, the most prominent point of the face, playing a key role. This subtle enhancement can greatly improve a person's overall appearance and accentuate his or her best features.
Improve self-image by helping patients feel more confident about their appearance.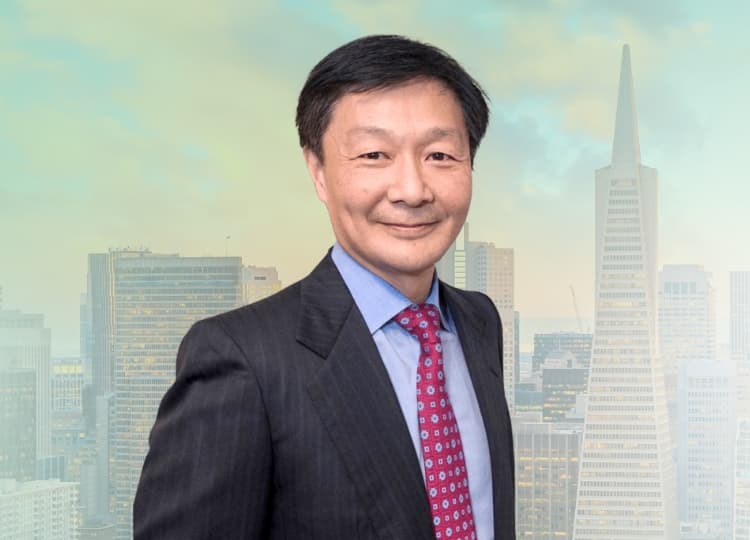 Dr. Albert Chow
Triple Board-Certified Plastic Surgeon
Dr. Albert Chow is one of the few Bay Area surgeons who is board certified in plastic surgery, facial plastic surgery, and otolaryngology. In addition to his impressive credentials and decades of experience, Dr. Chow is a kind, approachable doctor who truly listens to his patients. He specializes in cosmetic and functional rhinoplasty and procedures for patients of Asian descent.
Credentials You Can Trust

Asian Rhinoplasty Techniques
Using safe, permanent artificial implant materials or a graft of the patient's tissue, Dr. Chow can create a clearly defined bridge and alter the shape of the nasal tip. In many cases, an Asian rhinoplasty procedure can be performed as a scarless closed rhinoplasty.
Nasal Narrowing
Many Asian rhinoplasty patients choose to have nasal narrowing to refine the size and shape of their noses. In particular, Dr. Chow can narrow the:
Nasal bridge — Using specialized rhinoplasty techniques, Dr. Chow can narrow the bridge of the nose so that it better fits the face. This process involves reshaping the cartilage that gives the bridge its shape and removing excess tissue as needed to better balance the nose with the rest of the face.
Nostrils — Dr. Chow can give patients smaller, more delicate nostrils by removing a wedge-shaped piece of the nostril and surgically closing the gap to bring the nostrils down to the desired size.
In addition to improving characteristically Asian features, Dr. Chow can perform nose surgery to correct many other concerns including humps in the nasal bridge, crooked noses, and breathing problems caused by a deviated septum. In each case, his goal is to produce an aesthetically pleasing nose, free of structural defects.
How Much Does Asian Rhinoplasty Cost in San Francisco?
The cost of Asian rhinoplasty in the Bay Area depends on the complexity of the procedure. Closed rhinoplasty is generally the least complex and therefore the most affordable. Open rhinoplasty is slightly more expensive because it often requires more extensive correction and more complicated surgical techniques than closed rhinoplasty. Revision rhinoplasty is the most expensive, especially if significant repair is needed.
The challenge of an Asian rhinoplasty is that it often involves augmenting the nose (with a graft or implant) instead of reducing its size, which can add to the complexity of the surgery as well as the expense. Patients should carefully weigh the risks and benefits of Asian rhinoplasty and set realistic goals before undergoing a procedure. During your consultation, Dr. Chow will carefully explain all of your treatment options so that you are comfortable with the price of your surgical care. He is committed to fulfilling the needs of his patients at an appropriate cost.
What Are Some Questions You Should Ask During Your Asian Rhinoplasty Consultation?
For optimal safety and surgical outcomes, it's important to choose your surgeon carefully. Here are some questions that may be helpful to ask before you make your choice:
How much experience do you have with Asian rhinoplasties?
What are the risks and benefits of rhinoplasty surgery?
What rhinoplasty technique is best for my specific concern?
What will the recovery period look like?
What is the chance of complications?
What Can I Expect After Asian Rhinoplasty Surgery?
Patients normally experience minor, temporary side effects after an Asian rhinoplasty procedure. In addition to minor discomfort and bruising under the eyes, you may have postoperative swelling as well as increased skin sensitivity. Some patients may lose their sense of smell in the weeks following surgery; nasal function usually returns as the nose heals.
"I had an Asian rhinoplasty with Dr. Chow 2 months ago… and I have the most natural, amazing nose job ever."

— Bcb G. on Yelp.com
How Long Does Asian Rhinoplasty Take To Heal?
Patients are typically ready to return to work and normal activities 10 days to 2 weeks after Asian rhinoplasty. Actual healing happens gradually as bruising and swelling take time to subside.
When Will I See My Final Results From Asian Rhinoplasty?
Results of rhinoplasty, including Asian rhinoplasty, take some time to develop. While most of the swelling fades within the first month and is about 95% gone within 6 months, it can take up to a year for final results to be achieved. Dr. Chow's patients enjoy having the attractive noses they desire that complement their overall look and ethnic qualities.
Possible Complications
Although the majority of Asian rhinoplasty patients do not experience complications, be sure to discuss the risks with Dr. Chow so you are fully aware of all aspects of the procedure. There are some possible complications:
Infection — In rare cases, patients may develop a minor infection during their recovery; this is usually easily treatable with antibiotics. Should a more severe infection occur, hospitalization or surgery may be necessary.
Excessive Bleeding — Some patients experience excessive bleeding during or after surgery. Although the majority of cases involve minor bleeding that ceases promptly after surgery, prolonged bleeding may require emergency treatment, such as nasal draining.
Visible Scars — Patients may have visible or asymmetrical scarring after the procedure, as well as discoloration from the sutures. There may also be tiny red spots around the nose caused by burst blood vessels. In many of these cases, additional skin care treatments may be necessary to reduce noticeable scarring.

Apply now and get a decision in seconds!
Apply Now
Prepare for the Unexpected
Although major complications are extremely rare, it's important to prepare for any outcome. Other complications may include difficulty breathing through the nose, irregularities in the skin, nasal septal perforation (a hole in the nasal septum), unsatisfactory scar location, poor healing, and loss of sensation. There is also a rare possibility that your nose may heal in an abnormal shape due to unexpected post-surgical trauma or even sleeping incorrectly on your nose. Adhesions, which are scars that form on the bridge across the nasal cavity, may also cause nasal obstruction and breathing difficulties.
With his extensive training and qualifications, Dr. Chow is an excellent choice for your Asian rhinoplasty surgeon. If you're concerned about the potential risk of complications, we urge you to contact us today for a consultation to discuss your concerns in person.
Asian Rhinoplasty FAQ
Is Asian rhinoplasty painful?
The nose typically feels sore and stuffy after rhinoplasty, but not painful. Dr. Chow uses a long-acting local anesthetic to minimize any discomfort.
How does an Asian rhinoplasty differ from a traditional rhinoplasty?
Asian rhinoplasty reshapes the nose to complement the Asian face. Unlike traditional rhinoplasty, Asian rhinoplasty often makes the nose larger and the bridge more prominent.
Will my results look natural?
As a specialist in procedures for patients of Asian descent, Dr. Chow strives to give patients the changes they desire while maintaining their naturally attractive ethnic qualities.
How do I know if I need a rhinoplasty?
Rhinoplasty is needed if you want a long-lasting improvement in the shape and structure of your nose. Functional rhinoplasty such as septoplasty may be needed as well to correct breathing problems. Dr. Chow often combines functional and cosmetic nose surgery to improve his patients' appearance and their ability to breathe.
Are there nonsurgical alternatives to Asian rhinoplasty surgery?
In a few specific cases, dermal filler injections can be used to enhance the shape of the nose (called a liquid rhinoplasty), such as filling out an indentation in the bridge of the nose or reshaping it. While results can be satisfying, they are only temporary.
Are rhinoplasty results permanent?
Asian rhinoplasty results last indefinitely if the nose is not injured or broken.
Is the procedure safe?
When performed by a board-certified rhinoplasty specialist like Dr. Chow, Asian rhinoplasty involves minimal risks and is considered safe.