Albert W. Chow, M.D.
1 Daniel Burnham Court #368c
San Francisco, CA 94109
Phone: (415) 441-1888
Monday–Friday: 9 a.m.–5:30 p.m.

Why Choose Dr. Chow
When choosing who will perform your cosmetic procedure among the many plastic surgeons in San Francisco, there are many factors to consider. Dr. Albert Chow supports your desire to take this decision seriously. He wants you to understand the significance of his triple board certification and strives to help understand the many reasons he makes an excellent choice, whether you're interested in an aesthetic procedure such as breast augmentation, a functional procedure such as septoplasty, or a nonsurgical treatment such as BOTOX® Cosmetic injections.
To meet with San Francisco plastic surgeon Dr. Albert Chow, we encourage you to request a consultation with Dr. Chow using the online form or call (415) 441-1888 to schedule an appointment.
Triple Board Certified
During the course of his career, Dr. Chow has trained extensively and holds the rare distinction of having earned certification from the following 3 highly respected medical boards:
American Board of Plastic Surgery
American Board of Facial Plastic and Reconstructive Surgery
American Board of Otolaryngology–Head and Neck Surgery

This impressive accomplishment demonstrates Dr. Chow's commitment to patient safety and quality results. Achieving this status requires years of specialized training, numerous rigorous exams, and ongoing professional development.
"He is a humble person, approachable, skilled beyond words, and a genuinely nice person. And even though he does not parade it, he is a TRIPLE board-certified plastic surgeon."

— Charles C., rhinoplasty patient on Yelp.com
About Board Certification
Board certification is essential to choosing a qualified provider. It's equally important to make sure the doctor practices within the parameters of his or her specialty.
ABMS Boards
The American Board of Medical Specialties (ABMS) is the largest and most respected U.S. specialty certification organization. The cosmetic providers recognized by ABMS include:
Board-Certified Plastic Surgeons: The American Board of Plastic Surgery (ABPS) is the only board exclusive to plastic surgery. Those holding ABPS certification are the only physicians to appropriately hold the title of board-certified "plastic surgeon" and are accredited to perform all types of plastic surgery procedures and treatments of the face and entire body, including plastic surgery of the breast.
Board-Certified Otolaryngologists: The American Board of Otolaryngology (ABOto). A portion of the board certification review by the American Board of Otolaryngology includes plastic and reconstructive procedures of the face, head and neck only. The otolaryngologists who are qualified to perform these procedures are commonly referred to as facial plastic surgeons.
Board-Certified Dermatologists: The American Board of Dermatology (ABD). The American Board of Dermatology certifies doctors in the field of dermatology. Medical doctors certified by the ABD, and doctors of osteopathy with accredited training and equivalent board certification, are qualified in procedures specific to treating the skin, hair, and nails.
Board-Certified Ophthalmologists: The American Board of Ophthalmology (ABO). Doctors certified by the ABO are trained to perform procedures of the eyelids and eye region.
Other Boards
Although not a member board of the ABMS, the American Board of Facial Plastic and Reconstructive Surgery (ABFPRS) certifies primarily board-certified otolaryngologists in plastic and reconstructive surgery of the face, head and neck only.
Recognized for Excellence
Consistently delivering excellence in patient care and results, Dr. Chow has earned awards and honors from patients and community leaders:
The Vitals.com Patients' Choice Award for near-perfect patient ratings in 2018, 2017, 2013, 2012, 2011, and 2010.
Certificate of Honor in February 2016 by San Francisco Mayor Edwin Lee, as recognition for his work in the city of San Francisco, and for being part of the first U.S. team of surgeons to perform a hand transplant. Respected local interior designer Sophie Azouaou presented the award to Dr. Chow on behalf of the mayor (see photo).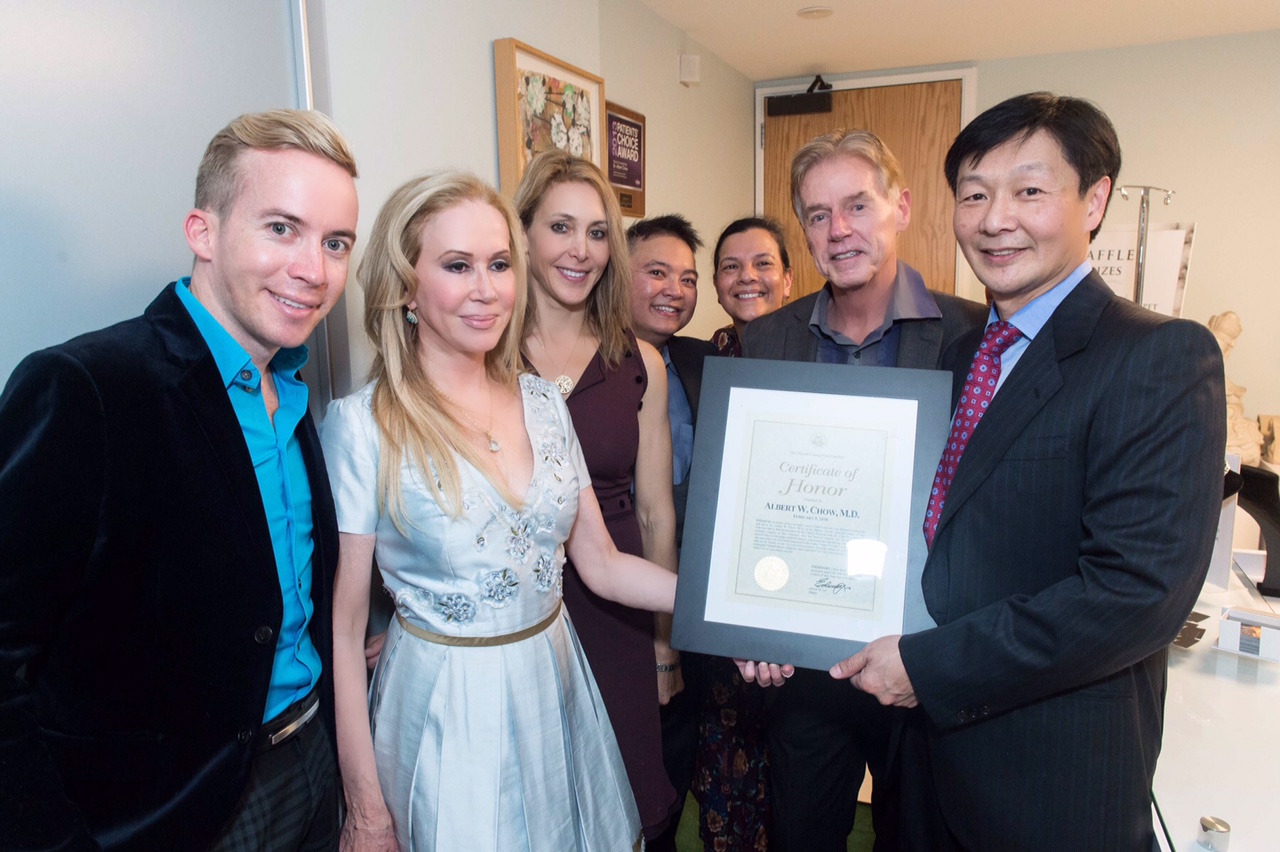 "I can confidently say Dr. Chow is not only one of the best surgeons in his field, but he's also an incredible person."

— Jenna B., rhinoplasty patient on Yelp.com
Accredited, Onsite Surgery Center

Patients enjoy the convenience and safety offered by having their procedures performed at the Daniel Burnham Court Surgery Center. Located within the practice, this state-of-the-art outpatient surgical facility is licensed and accredited by the Accreditation Association for Ambulatory Health Care, Inc. (AAAHC) and Medicare, which makes our facility unique in terms of qualified certification. Dr. Chow performs every surgical procedure accompanied by a board-certified anesthesiologist.
"Dr. Chow is TRIPLE board certified. Those are some pretty amazing qualifications. Not only that, but this man is so nice and met with me 3 times before I even booked my surgery with him. I had a million questions, and he answered all of them."

— A.K., breast augmentation patient on Yelp.com
Specialist in Rhinoplasty & Asian Cosmetic Procedures
While Dr. Chow is trained and experienced in a variety of options for enhancing your look, he is particularly well-known in San Francisco for certain work:
Cosmetic surgery procedures specialized for patients of Asian descent, including Asian rhinoplasty and double eyelid surgery, to enhance features while maintaining naturally attractive ethnic qualities
Revision rhinoplasty to improve unsatisfactory results of another surgeon
Septoplasty to correct a deviated septum and improve breathing