Albert W. Chow, M.D.
1 Daniel Burnham Court #368c
San Francisco, CA 94109
Phone: (415) 441-1888
Monday–Friday: 9 a.m.–5:30 p.m.

Facelift in San Francisco
If you're thinking about a facelift in the San Francisco Bay Area, you should consider meeting with a facial plastic surgery specialist. Dr. Albert Chow is board certified in facial plastic surgery, as well as plastic and reconstructive surgery and otolaryngology – head and neck surgery. He creates a personalized plan using advanced facelift techniques, including those specifically for patients of Asian descent, to help his patients look rejuvenated yet natural. The women and men who choose him enjoy outstanding facelift results and the finest aftercare available.
Dr. Chow is an experienced face lift surgeon in San Francisco with the specialized training and expertise required to produce outstanding plastic surgery results, especially from facial procedures. Request a consultation using his online form or call  (415) 441-1888 to schedule an appointment.
Who's An Ideal Facelift Candidate?
Good facelift candidates are women and men who meet the following criteria:
Want to address moderate to significant aging of the lower 2/3 of the face
Are prepared to take time out for recovery
Are in good physical and emotional health
Don't smoke (or are willing to give up smoking before and after surgery)
Facelift Cost in San Francisco
The cost for facelift procedures with Dr. Chow varies with the specifics of the surgery and whether your facelift is combined with other procedures or nonsurgical treatments. Financing is available to qualified patients through CareCredit® if desired. For optimal safety and the most natural-looking results, it is important to choose your facelift surgeon based on experience and expertise instead of cost.
Benefits of a Facelift
While the signs of aging on the face are similar between individuals, each of us ages uniquely due to our facial anatomy, genetics, and environmental factors. In general, facelift surgery rejuvenates the lower face. During this procedure, Dr. Chow provides one or more of the following improvements:
Firming lax, sagging skin
Lifting facial fat and tissue that has dropped from the cheeks and formed jowls
Smoothing creases around the mouth and nose
Tightening the neck
To see the impressive results he has achieved for some of his patients, view his facelift patient before & after photos.
What Does a Full Facelift Include?
Dr. Chow performs the full facelift to "turn back the clock" 5 to 10 years. During this procedure, also called a complete or traditional facelift, he tightens underlying facial muscles, removes or redistributes fat, and repositions the skin. He usually performs a neck lift as well for a more complete rejuvenation. Patients who undergo full facelifts are generally those who have advanced facial aging. After a facelift, the skin fits the face more closely for a smoother and more youthful—but not tight appearance—that typically lasts for years.
Facelift vs. Neck Lift
A neck lift picks up where a facelift ends by tightening lax, crepey neck skin, repairing neck muscles (platysmal bands), and reducing pockets of fat under the chin and along the neck. The combined rejuvenation from a facelift and neck lift restores firm, youthful facial contours starting where the cheeks begin under the eyes and ending at the collarbone. Dr. Chow also performs neck lifts individually when it's appropriate.
What Are Mini Facelifts?
The mini facelift, also called an S-lift, is ideal for patients with less severe aging symptoms who prefer a simpler procedure and a shorter recovery period than with the traditional facelift. Also, because the procedure is less complex to perform, it is also more cost-effective. When performing a mini facelift, Dr. Chow targets specific areas of the face, allowing for smaller incisions that heal more quickly. The results of a mini facelift are typically subtler but can still contribute to a profoundly improved appearance.
What Is an Endoscopic Midface Lift?
A midface lift, performed endoscopically, specifically targets the region of the face around the cheeks, nose, mouth, and eyes. Through small incisions located either behind the lower lash line or behind the hairline at the temples, Dr. Chow inserts a long, thin tube with a lighted camera at the end called an endoscope to see the underlying facial structures. Using specialized instruments, he tightens facial muscles and lifts the skin, removing excess tissue. Because the midface lift targets a specific area of the face, patients are able to enjoy dramatic results with less scarring, post-surgical swelling, and discomfort than with a full facelift.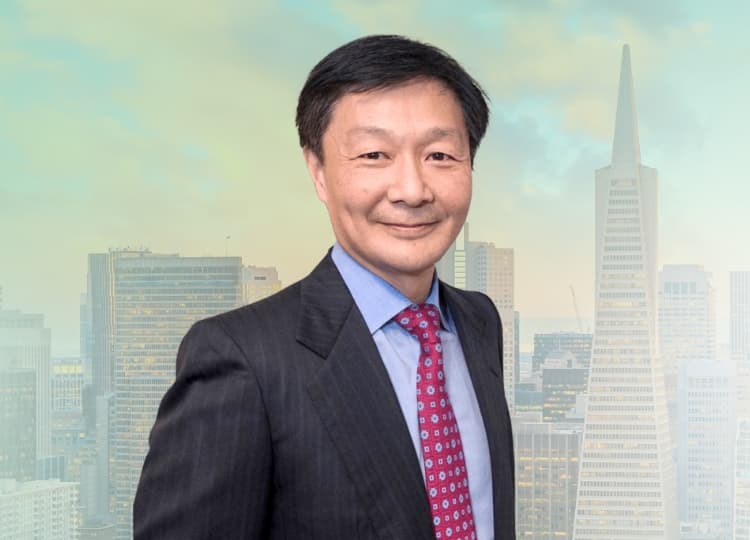 Dr. Albert Chow
Triple Board-Certified Plastic Surgeon
Dr. Albert Chow is one of the few Bay Area surgeons who is board certified in plastic surgery, facial plastic surgery, and otolaryngology. In addition to his impressive credentials and decades of experience, Dr. Chow is a kind, approachable doctor who truly listens to his patients. He specializes in cosmetic and functional rhinoplasty and procedures for patients of Asian descent.
Credentials You Can Trust

Where Are the Incisions Placed?
Dr. Chow creates facelift incisions that are thin and well concealed so the resulting scars are not noticeable once healed. For the full facelift, he begins the incision within the hairline at the temple and continues it in a natural crease of the face in front of and around the back of the ear. Mini facelift incisions are shorter, beginning in front of the ear and ending under the earlobe.
Facelift Surgery Recovery
Most people need about 2 to 3 weeks of recovery time after a facelift, although experiences vary. It is important to rest and give yourself time to heal. Here is a general timeline of recovery milestones:
First Few Days
Expect swelling and bruising after surgery that peak within 3 to 4 days. Keep your head elevated at all times to minimize swelling.
First Week
Soreness is typically managed with prescription pain medication. After that first week, many people can comfortably stop taking pain medications or transition to over-the-counter pain relievers. Bandages and stitches are removed at a post-op visit.
Weeks 2 to 3
Most people are ready to resume work, social activities, and light exercise within 2 to 3 weeks. By this time, most of the bruising and swelling have subsided or can be easily covered with makeup. There may still be a loss of sensitivity in some parts of the scalp and facial skin for the next few weeks.
Weeks 4 to 6
Patients are usually cleared to resume vigorous exercise during weeks 4 to 6. While some swelling may remain a bit longer, most people look and feel "back to normal" after about a month or even sooner for mini facelifts.
Final Results
It will take about 3 to 4 months for the swelling to fade completely and your final, rejuvenated look to be attained.

Apply now and get a decision in seconds!
Apply Now
Other Facial Rejuvenation Options
Dr. Chow often combines facelift surgery at his San Francisco plastic surgery practice with other facial cosmetic surgery procedures for more complete facial rejuvenation. In some cases, these simpler, less invasive procedures postpone the need for a facelift. Options include:
A brow lift rejuvenates the forehead and brow line by smoothing deep frown lines and raising a hooded or sagging brow. This procedure often opens up the eye area and helps patients look younger, happier, and more rested.
Cheek Implants
Dr. Chow uses cheek implants to accentuate the cheekbones and balance the contours of an out-of-proportion face. Cheek implants can also be used to compensate for cheeks that have become flat or hollow due to a loss of fat. The implants are inserted through incisions made inside the mouth, so there is no visible scarring on the face. Many of our patients enjoy truly dramatic results with this relatively simple surgical procedure. Often, patients who choose cheek implants are able to postpone the need for more invasive facelift surgery.
Cheek Fat Removal
Some patients with excessively full cheeks can appear to be carrying more weight in their faces than they actually are. By removing fat from the cheeks through discreet incisions in the mouth, Dr. Chow can lend proportion, balance, and definition to the cheek and jaw areas. The results are subtle, refined, and — as with all of Dr. Chow's procedures — completely natural looking.
Facelift FAQ
Are there any nonsurgical alternatives to facelift surgery?
People with early signs of aging may attain the rejuvenation they want with a "liquid facelift" that combines:
BOTOX® Cosmetic relaxes facial muscles and associated wrinkles.
Dermal fillers like JUVÉDERM® replace volume on the cheeks and around the eyes, smooth out folds, and rejuvenate the lips.
For a comparison of surgical and nonsurgical facelifts, see this blog post.
How many years younger will I look after surgery?
Dr. Chow's patients typically look 5 to 10 years younger after a full facelift and neck lift.
What's the right age to consider a facelift?
The "right" age for a facelift is when facial aging, such as sagging cheeks, smile lines (nasolabial folds), jowls, and a wrinkled neck cannot be corrected with nonsurgical treatments. Facelift patients are typically in their late 40s to 60s. Many younger patients benefit from a mini facelift.
Is the surgery safe?
When performed by an experienced, board-certified facial plastic surgeon who carefully screens each patient, facelift surgery is considered safe.
How long will my results last?
The results of a full facelift last many years when patients follow a healthy lifestyle, minimize stress, and limit sun exposure. The aging process will continue, but patients will always look younger than if they had not had the surgery.
Will my surgical scars be noticeable?
Dr. Chow takes care to place facelift incisions where they will be concealed by natural creases or in the hairline. His meticulous suturing technique leaves very fine scars that are virtually undetectable.